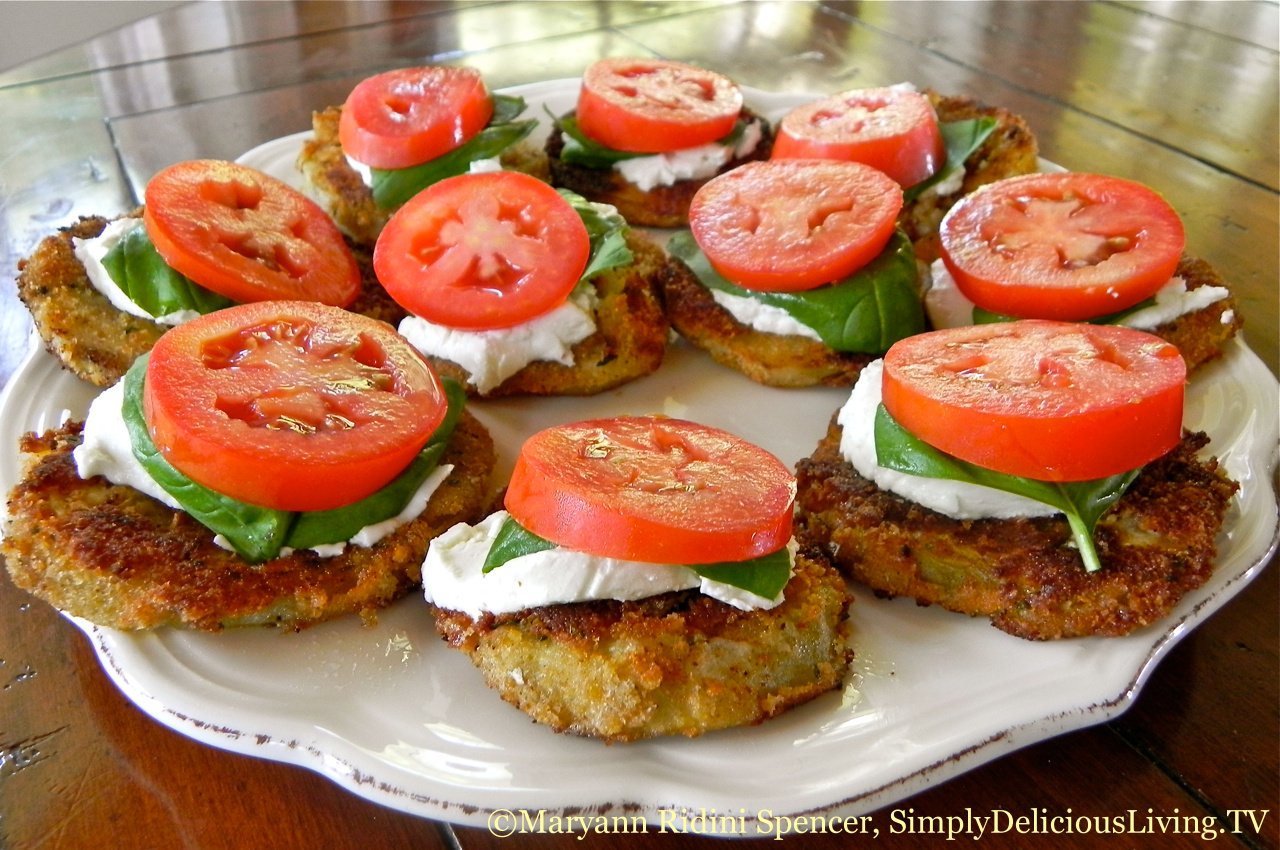 Crispy Eggplant with Goat Cheese, Tomato & Basil Appetizer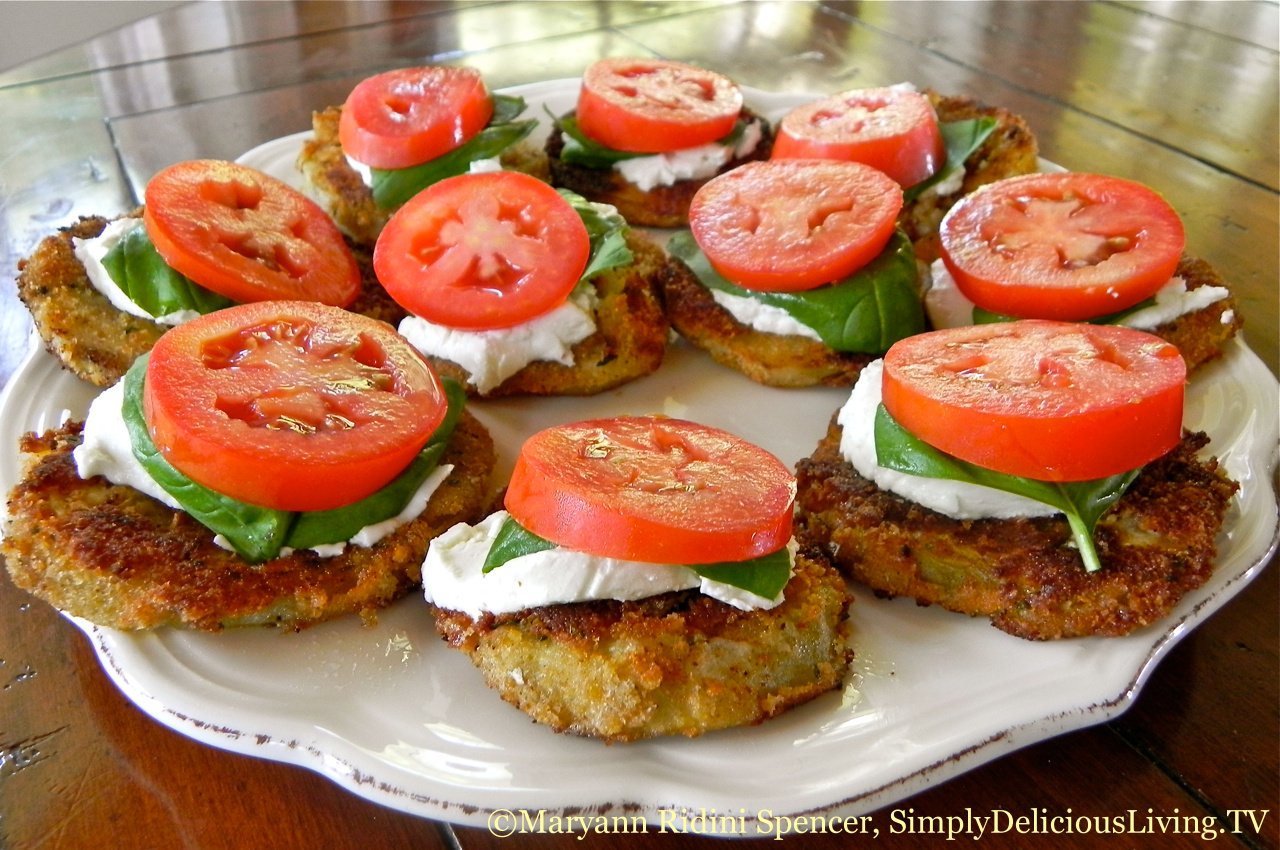 This Crispy Eggplant appetizer is so elegant and delicious! Serve it as an appetizer before dinner or for lunch with my Simple Side Salad or my Very Green Salad.
This recipe is also featured in my first novel, "Lady in the Window" (In bookstores May 9, 2017 from SelectBooks). The novel's main character, Kate Grace, enjoys this lovely appetizer overlooking the Pacific Ocean and an amazing sunset!  For more information  on the novel, visit: maryannridinispencer.com.

JOIN Maryann's BOOK CLUB, click here!
Visit Maryann's website and blog at maryannridinispencer.com
Crispy Eggplant with Goat Cheese, Basil and Tomato Appetizer
Author:
Maryann Ridini Spencer
Ingredients
one organic eggplant, peeled and sliced into small rounds
1½ c. organic Italian seasoned bread crumbs
2 organic free-range eggs
½ c. coconut milk
small log of goat cheese
10-15 fresh basil leaves
3-4 organic Roma tomatoes, sliced
organic extra virgin olive oil
Instructions
In a large bowl, pour in bread crumbs.
In another bowl, add in eggs and milk.
With a fork, beat eggs and milk until blended.
With a fork, take one eggplant round, dip in milk and egg mixture (coat both sides), then dip into breadcrumb mixture (also coating on both sides.
Continue the same process with all the rounds.
In a skillet on the stovetop over low heat, drizzle olive oil over the bottom of the skillet.
Place breaded eggplant rounds in the skillet.
Cook until a golden brown on both sides.
When rounds are done, remove from skillet and arrange on a plate.
When the rounds have cooled (approx. 10 minutes), slice the goat cheese log placing a slice of goat cheese on top of each round, place one basil leaf on each round, then a slice of tomato.
Serve immediately!
Notes
You may need more egg and milk mixture (and/or breadcrumbs) depending upon the size of your eggplant...so have a little extra on hand. Enjoy!
©2013, 2016 — Maryann Ridini Spencer
LIKE Simply Delicious Living with Maryann® on Facebook, CLICK HERE.
SIGN UP for our FREE monthly newsletter – lots of great articles, cooking videos, decorating tips and body•mind•spirit inspirations!, CLICK HERE.
WATCH US on YouTube on your computer, on your mobile device or iphone at SimplyDelishLiving Channel (and/or Maryann Ridini Spencer)
WATCH Simply Delicious Living with Maryann® on PBS Television in Southern California and in First Run Television Syndication.  For more information, visit:  SimplyDeliciousLiving.TV and RidiniEntertainment.com
Google+