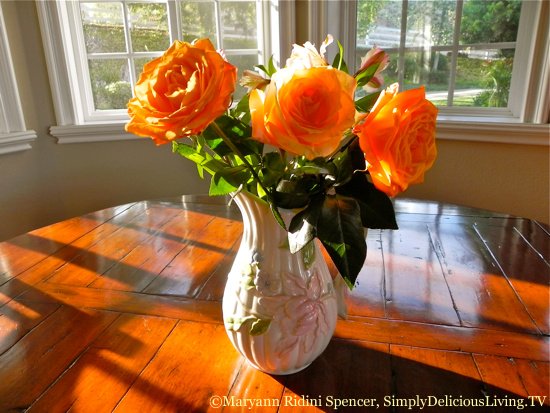 Aloha Friends!
I'm currently in the process of coordinating ongoing in-person speaking engagements to coincide with the release of my upcoming novel, Lady in the Window (May 9, 2017, SelectBooks), as well as my other writing, producing and business endeavors.
In addition, I'll  also be speaking to groups via speakerphone and/or SKYPE during their book club meetings as well as other organizational gatherings.  How cool is that?  These "electronic engagements" will allow me more opportunity to connect with you! For speaking engagement bookings, in addition to talking about my novel, we can discuss a host of other topics (listed below).
LET'S DISCUSS (& GET COOKING!)
Books – My novel, "Lady in the Window" (once a speaking engagement is booked, a Book Discussion Guide with sample questions and topics will be provided to your group)
Movies
Women's issues
Home & Family
Cooking & Simply Delicious Living
Arts & Crafts
Environmental Sustainability
& More!
I also invite you to cook up some recipes from Lady in the Window for our gatherings.  Just visit my blog at simplydeliciousliving.com and navigate to  The Plumeria Café.  With enough notice, we can also  "cook" a recipe together!
Set your BOOK Conference with me TODAY.  Just Pre-order "Lady in the Window" via BARNES & NOBLE NOW (with FREE shipping), More here.
Also order on AMAZON, More here.
A Q&A with Maryann about "Living Aloha" below – a great conversation topic of how you can incorporate more ALOHA in your life!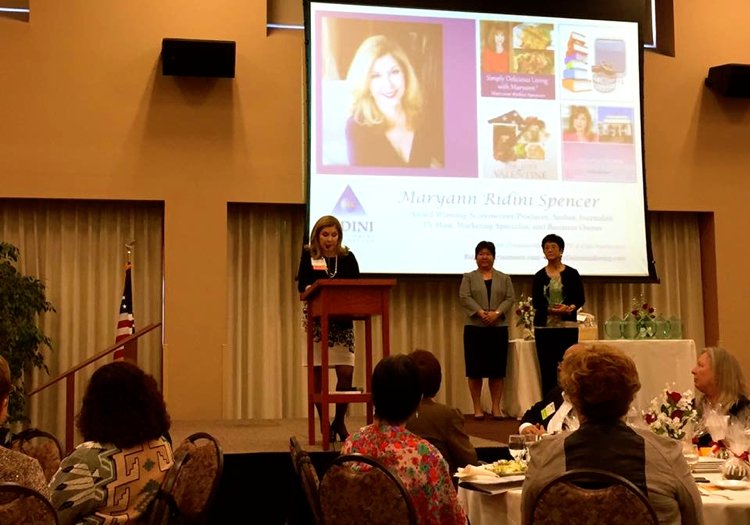 BOOK MARYANN FOR YOUR  CLUB OR ORGANIZATION

To book me to speak at your group, office, organization, or event, contact Ridini Entertainment by email at least 45 days in advance at recprinfo@gmail.com and/or call Ridini Entertainment at  (818) 884-0104 to coordinate a date and a topic.  Also sign up for my Book Club and Mailing List, here.
I will do my best to fulfill all engagement requests.
Thank you, mahalo and Aloha,
Maryann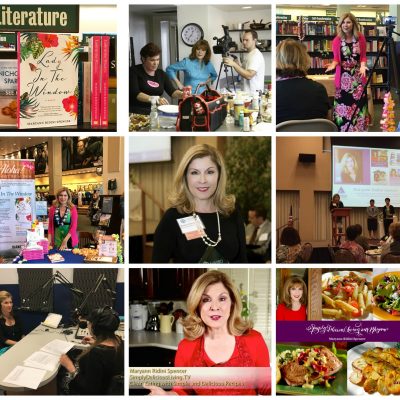 A recent National Association of Women Business Owners of Ventura County (NAWBOVC) meeting featured recipes from Lady in the Window prepared by NAWBOVC President Brenda Terzian.  Recipes pictured clockwise left to right are:  NAWBO President Brenda Terzian,  "Kate's Orzo Salad," "Pineapple Applesauce Muffins," and  "Quick and Easy Spinach Quiche Lorraine" (and another quiche with mushrooms),— all recipes (and recipe print outs!) can be found on my blog by searching the recipe name @simplydeliciousliving.com and/or  The Plumeria Café.  After a book club meeting, send me your photos to post!
Google+